Hathras Case Live Updates: Rahul Gandhi Arrested By UP Police On His Way To Hathras
Chaotic scenes are being witnessed as Rahul and Priyanka Gandhi head to Hathras to meet deceased rape victim's family. After traffic jam and high security at Delhi's DND flyover, action has shifted to Yamuna expressway where the brother-sister have reportedly been stopped, leading to chaos and traffic jam. Clashes between Rahul Gandhi and UP police took place, following which the Congress leader has squatted on road. Meanwhile, the Valmiki community has announced a protest in several Uttar Pradesh districts, including Moradabad, Saharanpur, Jalaun and Kasganj. An agitation is also planned in Delhi around 5pm.
On Wednesday, Congress, Left and Bhim Army activists staged protests near the Uttar Pradesh Bhawan and India Gate in the national capital, demanding justice for a 19-year-old woman who died a fortnight after she was allegedly gang-raped in Hathras. She was cremated in the dead of the night with family members alleging they were forced by police to hurriedly conduct the last rites, a charge that triggered further outrage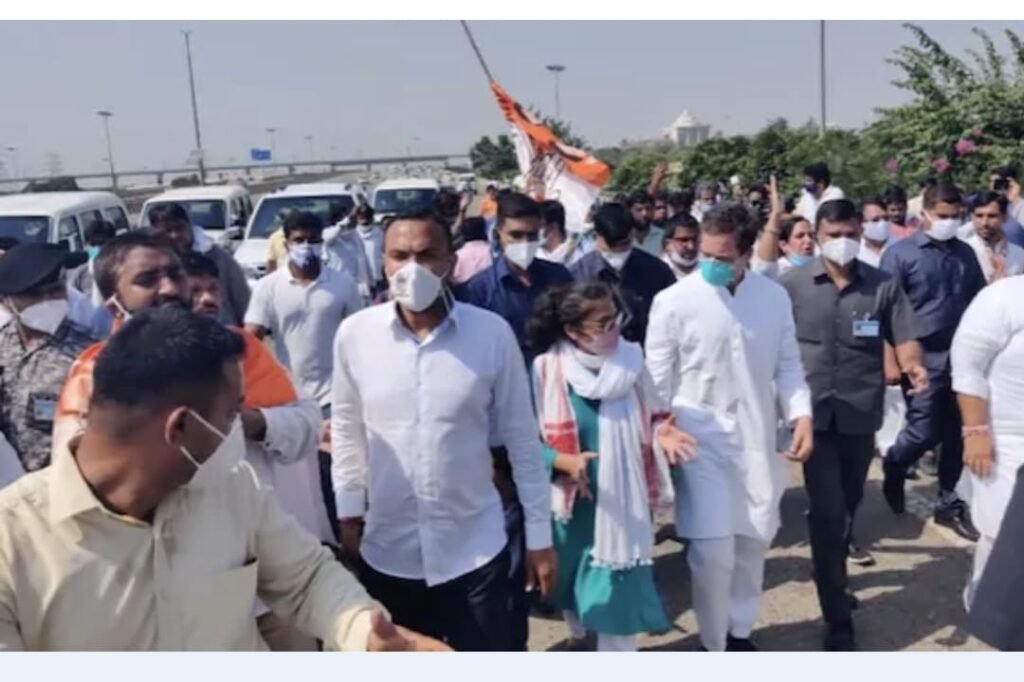 15:13 (IST)
BJP fears the voice of justice. UP Police is using violence to stop our leader Rahul Gandhi who is now walking to meet the Hathras victim's family. Yogi government may try all it wants, but they can never curtail the voice of justice. If UP Administration would have shown 1/10th of the pro-activeness they r showing in preventing Congress leaders from going to Hathras then may be heinous rape crimes could have been prevented: Congress leader KC Venugopal.
15:10 (IST)
'Will Not Allow Them to Proceed': Noida ADCP | We have stopped them here. The Epidemic Act is being violated. We will not allow them to proceed forward: Noida ADCP Ranvijay Singh.

15:03 (IST)
'A Meeting With a Family in Mourning Also Scares UP Govt': Rahul Gandhi | "In times of sorrow, loved ones are not to be left alone. The 'Jungle Raj' in UP is such that meeting a family in mourning also scares the government. Do not be so afraid, Chief Minister!," Rahul Gandhi tweeted.
14:59 (IST)
'Workers Stopped, Thrashed with Lathis': Priyanka Gandhi | "They prevented us from going to Hathras. When we all set out by foot with Rahul ji, we were stopped repeatedly, and were thrashed with lathis. Many workers are injured. But our resolve is firm. The sticks of an egotistical government cannot stop us. I wish lathis, UP police had been used to protect the Dalit daughter of Hathras," Priyanka Gandhi said in a Tweet in Hindi.
14:50 (IST)
RECAP | Earlier, the administration in Hathras imposed prohibitory orders in this district of Uttar Pradesh for maintaining law and order. "Section 144 (of the Code of Criminal Procedure) has been imposed in the district. It will be in force till October 31," District Magistrate PK Lakshkar said on Thursday. The administration has also ordered to seal the borders of Hathras district.
14:43 (IST)
WATCH | Congress leader Rahul Gandhi and other party workers pushed and lathicharged by police. They threw me to the ground, said Gandhi.
14:35 (IST)
Samajwadi Party workers stage a protest demonstration in Hathras demanding justice for the rape victim.
14:31 (IST)
Congress workers and protesters once again lathicharged by the UP police as they march towards Hathras.
14:28 (IST)
Rahul Gandhi, Priyanka Gandhi Vadhra, along with Congress workers, push through UP police and resume their march despite the police restricting protestors from going ahead.
14:26 (IST)
Lathicharge by Police at Expressway | Congress leader Rahul Gandhi gets into scuffle with Uttar Pradesh Police as the police is conducting lathicharge and is physically pushing protesters and stopping them from going ahead.
14:22 (IST)
Satisfied with SIT Probe: Victim's Father | The Hathras incident victim's father says the family is satisfied
with the SIT probe conducted by Uttar Pradesh Police under the orders of CM Yogi Adityanath.
14:21 (IST)
Sanitation workers in Moradabad demonstrate in the Civil Lines area of the city, demanding justice for the Hathras victim.
14:18 (IST)
Congress workers stage a protest at the toll plaza on Delhi-Noida Direct Flyway earlier during the day.
14:13 (IST)
Samajwadi Party workers protest after being denied entry to the village in Hathras.
14:00 (IST)
NCW Writes to UP DGP over Creamtion of Body | The National Commission for Women (NCW) has written to Uttar Pradesh DGP over cremating the victim's body in the middle of the night without the permission and presence of her family members. NCW had taken suo motu of the gangrape incident and an Action Taken Report was received from the Uttar Pradesh police on the same day. The Commission has now written to DGP seeking an explanation on the urgency to cremate the body of the victim in the middle of the night that too in the absence of her family.
13:57 (IST)
Congress workers greet and raise slogans at the toll plaza on Delhi-Noida Direct Flyway in support of party leaders Rahul and Priyanka Gandhi who are on their way to Harthras.
13:56 (IST)
Priyanka Gandhi Vadra along with Congress workers walks along the Yamuna Expressway, after her vehicle was stopped by the authorities.
13:51 (IST)
PM Should Speak Up for Dalits: TMC | The Trinamool Congress on launched a scathing attack on Prime Minister Narendra Modi for his "silence" on the Hathras incident and said that he should speak up for Dalits if he has "any humanity left". The West Bengal BJP also hit back, asking TMC leaders to first focus their attention on the rising crimes against women in the state and then lecture others.
13:45 (IST)
Gandhis Stopped at Expressway, UP Border Sealed | Congress leaders Rahul Gandhi and Priyanka Gandhi Vadra have been stopped by UP Police on Yamuna expressway. Both the leaders are marching toward Hathras on foot now. There is massive traffic congestion at the expressway. Borders have also been sealed.
13:42 (IST)
Demand for CBI Investigation | Strong protest is being staged by Valmiki community in Sahranpur. People have taken to the streets demanding justice to the Hathras rape victim. Balmiki Samaj and municipality sanitation workers submitted memorandum to District Magistrate in Jalaun. Plea has been submitted to the Prime Minister, Governor and Chief Minister, requesting for justice. A demand for CBI investigation has also been made.
13:38 (IST)
The Dalit society took to the streets in protest after Hathras incident. The cleaning system of Moradabad Municipal Corporation came to a standstill due to the strike called by sanitsation workers, who announced not to do cleaning for next 24 hours.
13:37 (IST)
The police has filed a case in Kotwali Sadar against 145 people who were committing nuisance in Hathras yesterday. Case was filed against 25 nominated and 120 unidentified, including the District President of Congress. Case filed under IPC Sections 147, 149, 332, 353, 336, 347, 427 and three Public Property Prevention Act. The Inspector General of Police (IGP) formed several teams to arrest all the accused.
13:36 (IST)
SIT Interrogates Deceased's Family | A three-member Special Investigation Team (SIT) team, formed by Uttar Pradesh Chief Minister Yogi Adityanath, reaches the deceased's and interrogates the family members. The team had visited the deceased's home last night as well.
13:34 (IST)
We saw Uttar Pradesh CM Yogi Adityanth giving advice to others during the past some months. I suggest him to take care of his state and take strict action against 'jungle raj' prevailing there: Maharashtra Home Minister Anil Deshmukh on rape incidents in UP.
13:30 (IST)
Mamata Terms 'Forceful' Cremation of Victim as 'Shameful' | Terming the Hathras gang-rape incident as "barbaric and shameful", West Bengal Chief Minister Mamata Banerjee said the "forceful cremation" of the victim has exposed those who use lofty promise and slogans to seek votes. The body of the woman was cremated in Hathras in the early hours of Wednesday, with her family alleging that the local police forced them to conduct the last rites in the dead of night.
13:27 (IST)
Sec 144 CrPC Imposed | In Hathras, the district magistrate has imposed prohibitory orders under section 144 of the Code of Criminal Procedure (CrPC) and ordered sealing of the district borders to maintain peace.
13:24 (IST)
Rahul, Priyanka Leave for Hathras | Congress leaders Priyanka Gandhi Vadra and Rahul Gandhi leave for Hathras in Uttar Pradesh to meet the family members of the Dailt gangrape victim, who died in a Delhi hospital on Tuesday. Sources said both the leaders left 10, Janpath, Delhi, the residence of the Congress president, and entered UP via the DND flyover, where a large number of Congress workers had gathered. Traffic was disrupted in the area. Congress leader Randeep Surjewala is accompanying the two senior leaders.
Shocked by the recent incidents of rape with minor girls in Hathras, Azamgarh, Baghpat and Bulandshahr, Congress leader Priyanka Gandhi has sought answers from the BJP-led government of Uttar Pradesh. Both Priyanka and brother Rahul Gandhi are likely to leave for Hathras today to meet the family of the victim. Ahead of Gandhi's visit, Hathras DM Praveen Kumar Laxkar said that the borders of the town have been sealed and section 144 has been imposed. Meanwhile, BSP chief Mayawati asked Centre to step in as she alleged that Yogi Adityanath's UP government had failed to curb crime against women.
The police have booked the protesters, mostly students and women activists, for assembling in violation of prohibitory orders and Covid-19 guidelines, and detained some of them briefly.
The Left-affiliated All India Students' Association (AISA), which gave the call for a candlelight march at India Gate in the evening, alleged that the police forcibly removed the protesters from the spot and harassed and detained women, a charge denied by the police. Some Bhim Army activists also joined the protest near India Gate. In a call for candlelight vigil at India Gate, protesters demanding justice for the Dalit victim of gang rape in Hathras were brutally assaulted and detained by Delhi Police. The protesters were attacked, women members harassed and taken into custody," the AISA alleged.
The police said women protesters were not detained, but dropped off at their destination. The AISA claimed that women protesters were dropped off on a road near Jawaharlal Nehru University, even though they belonged to different institutions like Jamia Millia Islamia, Ambedkar University and Delhi University.
Thirty-two men have been detained for organizing an unauthorised protest on Man Singh Road near India Gate, police said. "A few female protesters who were part of the protesting group were removed from the spot. The protesters belonged to AISA and Bhim Army. Legal action under relevant sections of law is being taken," said Deepak Yadav, the Additional Deputy Commissioner of Police (New Delhi).
There were protests in neighbouring Ghaziabad as well. Activists of the Congress, Samajwadi Party, Rashtriya Lok Dal and the Akhil Bhartiya Balmiki Samaj staged protests in some areas of Ghaziabad, demanding justice for the Dalit woman.
Here are all the latest updates in Hathras rape case:
* Appalled by more incidents of rape soon after the Hathras one, BSP chief Mayawati asked Centre to step in as she alleged that Yogi Adityanath's UP government had failed to curb crime against women. "After Hathras incident, I hoped UP government would take action against people committing crimes against women. But a similar crime has been committed against a Dalit student in Balrampur. Under BJP's UP government, criminals, mafias and rapists are having a free run. Centre should intervene," she said.
BSP supremo further held CM Yogi Adityanath responsible for the deteriorating law and order situation in the state. "Yogi was made CM under RSS pressure. BJP should take up the matter with the RSS," she said, adding that their the chief minister should be replaced or President's rule be imposed.
* Hathras DM Praveen Kumar Laxkar says, "Borders of Hathras are sealed. Section 144 of CrPC has been imposed in the district, more than five people are not allowed to gather. We've no information about Priyanka Gandhi's visit. SIT will meet the victim's family members today, media will not be allowed."
* Congress leaders said that a team of Akshya Mourya, Shivram Singh, Ritu Choudhry, Pramod Kumar and Pradeep Narwal will accompany Priyanka Gandhi to Hathras. Before her visit, security has been beefed up at Delhi's DND flyover, where some Congress workers are protesting. Sources said that brother Rahul Gandhi and party veteran PL Punia may also accompany Priyanka.
* Congress leader Rahul Gandhi slammed BJP government over "jungle raj" in Uttar Pradesh. He said that BJP's slogan is not to save girls but to hide facts and save power.
* Former Uttar Pradesh chief minister Akhilesh Yadav alleged that the police thrashed the family members of Hathras rape victim on the "silent orders of the government". He said that now the people will also treat the government in a similar manner — make it run and bring them to the door of justice. "The public is seeing the true color of BJP's misrule. The cloak of hypocrites will not take long now to unveil," he added.
Rajasthan chief minister Ashok Gehlot tweeted on the incident too:
*The barbaric criminals will definitely be punished for their barbarism. The probe teams are carrying out the investigation. But I think there should not be political tourism on the same. Those who are trying to increase the tension through political tourism, should not do that. Everyone is saddened and want punishment for the culprits, Uttar Pradesh govt is working towards it. You will see the results soon," Union minister Mukhtar Abbas Naqvi said on rape incidents in Uttar Pradesh.
* "Have no words to condemn the barbaric and shameful incident at Hathras involving a young Dalit girl. My deepest condolences to the family. More shameful is the forceful cremation without the family's presence or consent, exposing those who use slogans & lofty promises for votes," West Bengal chief minister Mamata Banerjee tweeted.