HIPA Announces a Strategic Partnership with Dubai Safari Park
Includes training courses and workshops to support photographers, youth, park cadres, and various photography competitions
The Secretary General of the Hamdan bin Mohammed bin Rashid Al Maktoum International Photography Award (HIPA) has announced the signing of a strategic partnership contract with Dubai Safari Park, to open new horizons for lovers of nature photography allowing them to get up close to a variety of wild and rare predators.
Together, we will provide photographers and the public with opportunities to experience wildlife and master their artistic talents:Bin Thalith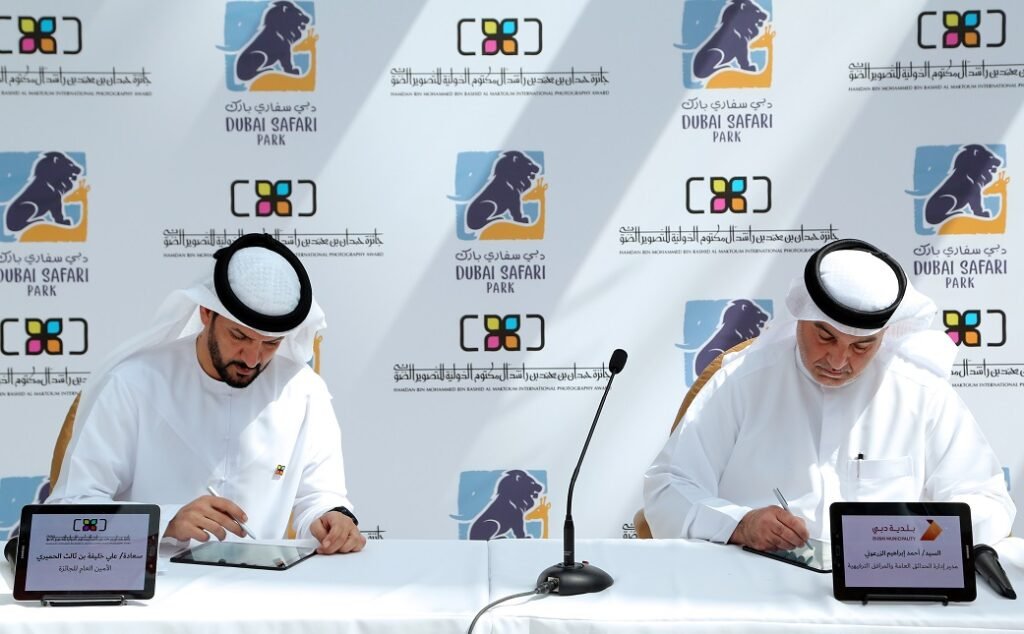 HIPA Secretary General, Ali bin Thalith said in a statement during the press conference held on Monday, September 13, 2021at the Dubai Safari Park, "We are excited about a partnership that provides our photography community with opportunities to cultivate their photography skills right her in the UAE. Dubai Safari Park is a unique entertainment landmark for the general public, but for photographers who are fond of nature and wildlife, it is an inspiration for their lens."
Bin Thalith added, "In light of HIPA's role in spreading the culture of photography and enhancing the role of the arts in human communication and development, we are pleased to announce a course that will train the Park's drivers and tour guides about wildlife photography strategies, harnessing them with valuable knowledge so they can support photographers during their photographic tours around the park. Our Safari program is yet another great addition to our growing suite of educational initiative which include, workshops, events, Saturday clubs, photography competitions, Instagram campaigns, digital workshops, etc. We will also be announcing some exciting initiatives in partnership with a number of major camera brands in the near future."
Bin Thalith concluded, "As part of our partnership with the Park we will also be launching a series of Instagram photography contests as well as a major competition that will be announced through the Dubai Safari Park website.
Director of the Department of Public Parks and Recreational Facilities in Dubai Municipality, Ahmed Al Zarooni said, "Dubai Municipality is keen to enrich the emirate with exceptional and unique tourist destinations. Dubai Safari Park has created a great addition to Dubai's already formidable tourism landscape. The park also aims to support, nurture and educate about animal welfare and conservation.
"Visitors will experience many different types of animals, not only in specialised areas and open exhibitions, but also in controlled environments where they can to approach and interact directly with a group of unique, exotic and rare creatures, such as elephants, lions, leopards, giraffes and many more. It is worth noting that all the animals in the park receive dedicated care by a distinguished team of experts and specialists.
"In addition, through this agreement, we aim to encourage and support creators and amateurs who love animal and wildlife photography to be creatively inspired by exposing them to the unique characteristics of each type of animal that exists."
Al Zarooni added, "We are pleased to be partnering with the Hamdan bin Mohammed bin Rashid Al Maktoum Photography Award to provide logistical support and facilities for photographers to delivery the series of events and initiatives that will be held at Dubai Safari Park in line with Dubai Municipality protocols."