Political turning point: The entire story behind Shankar Singh 's Khajuraho
In the 1995 Assembly elections, the BJP won 121 of 182 seats, the first time it had won a majority in the state. At a town hall meeting in Gandhinagar in March 1995, Keshubhai Patel's name was proposed for the CM's post, with Narendra Modi, then national general secretary (organisation), said to have thrown his weight behind Patel. But Vaghela's supporters had hoped he would be CM and that town hall meeting kicked off a rebellion. "Shankersinh noted that only those close to them (Modi and Keshubhai) were picked as ministers," says Parikh, who runs his plastics business and is no longer active in politics.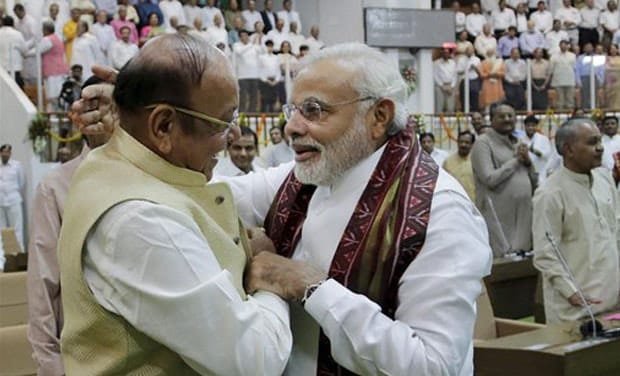 In September 1995, Keshubhai left for a tour of the US, naming Ashok Bhatt as caretaker CM. "Before leaving, he asked me if I had a problem with Narendra Modi. I told him, 'I have a problem with you. When you come back, you may not be CM'," says Vaghela. He claims 105 of the 121 MLAs were disgruntled and came to him. "I told them, leave this government. Are you ready?" He first took them to his village Vasan in Gandhinagar, where a few MLAs left. "(Now minister in state Cabinet) Babu Bokhiriya's wife came to fetch him, then Jaspal Singh (former IPS officer) left. About a dozen others left, leaving some 55 behind," says Shankersinh Vaghela.
The MLAs were later taken to the home of Haribhai Chaudhary, a Congress supporter, in Charada village in Mansa taluka in Gandhinagar. There too, a few left. "Mansukh Vasava (now BJP MP) was among those who left from the backdoor," says Vaghela. Parikh recalls, "The MLAs close to the other camp brought their goons and we were attacked with stones. Haribhai's wife, Bhikhiben, then got the villagers together and told them: 'Have you all worn bangles? They are our guests…' So the villagers got together and chased them away." It was then that Vaghela decided to take the MLAs out of Gujarat, but with BJP governments in Maharashtra, Delhi and Rajasthan, it was Madhya Pradesh, where Congress's Digvijaya Singh was CM, that seemed the safest.
Talking of the night the MLAs were driven to the airport, Vaghela says the original plan was to fly out the MLAs at 3 pm. "But we got late convincing everyone. Finally, when we reached the airport, we realised one of aircraft tyres was flat. That was fixed but then I learnt there was no night landing in Khajuraho so I spoke to the then aviation minister and got gas lights on the runway to facilitate the landing. When the plane finally took off, I breathed a sigh of relief," says Vaghela. Vaghela claims he did not visit the MLAs while they were in Khajuraho for a week.
Meanwhile, in Gandhinagar, the rebellion had set off alarm bells among the central leadership. Senior leader Atal Bihari Vajpayee and then Rajasthan CM Bhaironsinh Shekhawat flew in to Gandhinagar to convince Vaghela to get the MLAs back. "I told them I want Narendrabhai moved out of Gujarat," he says. The MLAs, who had been asked to pack clothes for 2-3 days, were kept in a five-star hotel, two to a room. "There were no mobile phones or 24×7 news then. There was this half-hour news slot on Doordarshan, which flashed news about us. Uma Bharti, who was BJP MP from Khajuraho, and Kushabhau Thakre (then vice-president of BJP) were among those who came to the hotel to meet the MLAs," says a Vaghela confidant on condition of anonymity. This confidant, who calls himself the "manager" of the coup, was posted in the same hotel in Khajuraho to ensure the safety of MLAs.
There were many MLAs such as Jay Narayan Vyas who, though unhappy with the leadership, did not go to Khajuraho. "Once you are voted on a symbol, you must not defect," says Vyas, who went on to become minister in Keshubhai and Narendra Modi Cabinets. Back in Khajuraho, the MLAs held meetings everyday, but as Parikh says, they had the time of their lives. "We spent our time playing table tennis, swimming, listening to music. We were told to relax and enjoy," he says. Vaghela claims the entire episode cost around Rs 10 lakh. "The chartered aircraft must have cost around Rs 4-5 lakh and if you count Rs 2-2,500 per room per night, then the hotel stay must have cost Rs 4-5 lakh," he says.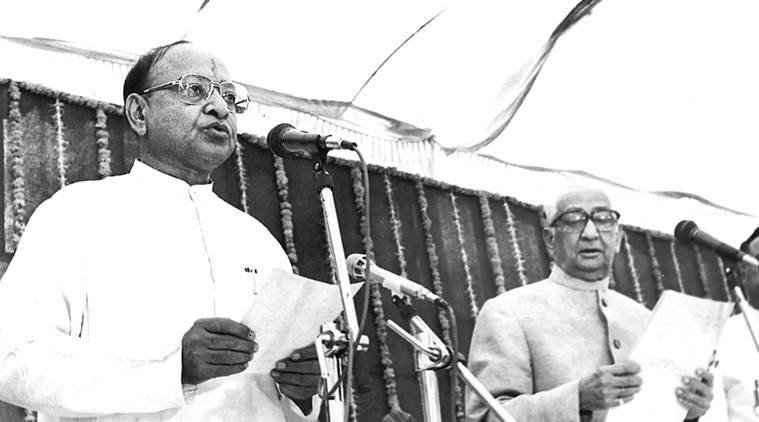 In Gandhinagar, Vajpayee and other senior leaders held hectic negotiations with Vaghela. One of these days, the MLAs got a call at their hotel, at 3 am, asking them to fly back at 6 am. They were taken to the circuit house in Gandhinagar where the compromise proposal was tabled. "'No Shankersinh, no Keshubhai', said Vajpayee. So two names were put forth Suresh Mehta and Kashiram Rana," says Parikh.
Finally, Mehta became CM. Though six of Vaghela's men got ministries, the bitterness stayed. A former minister in the later Modi government in Gujarat says, "The Vaghela camp was always treated as an outcaste. They were nicknamed 'Khajurias' (those who went to Khajuraho), the ones who stayed with Keshubhai were called 'Hajurias' (from Ji Huzoori or flatterers), and the rest were called 'Majurias' (the no-where people)."
In 1996, during a meeting to felicitate Vajpayee, who had gone on to become prime minister, the factionalism in the party came out in the open once again when Vaghela's men were assaulted — senior co-operative leader and MLA, the late Atmaram Patel, was stripped of his dhoti and another leader, Dattaji Chirandas, was nearly set ablaze. After this episode, Vaghela rebelled again. But when he lost the 1996 general elections from Godhra, BJP expelled him and he formed the Rashtriya Janata Party (RJP). With 48 rebel BJP MLAs, and with support of the Congress, he staked claim to form government. "I was sworn in as CM in October 1996," says Vaghela. But a year later, after a fallout with the Congress, Vaghela made way for Parikh as CM.
In March 1998, Parikh sought dissolution of the Assembly on Vaghela's behest. In the Assembly elections that followed, the RJP got only four seats and, by end of 1998, Vaghela merged his party with the Congress. In the 1999 Lok Sabha elections, he won on a Congress ticket from Kapadvanj. Many of his followers returned to the BJP fold. "I told them, you are free to join BJP because I cannot ensure you anything in the Congress… Then, the party was not in power either in Gujarat or at the Centre," says Vaghela. The incident, considered one of the biggest coups in the BJP, "finished Vaghela's career in the BJP and ended his credibility", says a former minister in the Modi government.
IN a party that wears its discipline on its sleeve, they are out of line. When months of open infighting led to the recent assault and stripping of a Cabinet minister, an irritated BJP high command finally decided to crack the whip. For, much to the BJP's embarrassment, the unsavoury drama in its Gujarat unit had coincided with A.B. Vajpayee's ascension at the Centre. And so, the message state leaders brought back from a central leadership still basking in the afterglow of a brief, image-boosting fling with power was clear: anti-party activities would not be tolerated.
"For acts of indiscipline, ministers will be dropped, party workers will be expelled. This is the spirit now," says state party chief Kashiram Rana. Apart from the rap on the knuckles, the high command has delivered a set of commandments to bring calm to its Gujarat unit. First, Chief Minister Suresh Mehta will stay. Second, stern action is to be taken against those involved in the assault on state minister Atmaram Patel, and those involved in ensuring that many party candidates were defeated in the elections. (Dissident leader Shankersinh Vaghela and his supporters had lost, and the BJP tally had shrunk to 16 out of 26 seats.) Third, and most crucial, the high command sought the immediate dissolution of the Mahagujarat Asmita Manch.
The manch, floated within the party by Vaghela after Patel was assaulted at the end of a May 20 meeting felicitating Vajpayee, was dissolved following Delhi's demand. A minister opposed to Vaghela said the general consensus in Delhi was to "fix" him. "It is a do or die situation for the BJP, and the biggest impediment must be removed," says the minister, referring to Vaghela.
The missiles remain in motion and many state leaders privately castigate the leadership for allowing such a crisis to fester for so long. Despite Delhi's tough talk, the picture stays diffused. In Gandhinagar, Chief Minister Mehta says Delhi has given him a "free hand" and hints at early action. Those opposed to Mehta, who is seen as close to Vaghela and Rana, don't acknowledge Mehta's special powers. Talk of three ministers being dropped, they say, is being spread by a section of the press. "We eradicated the land, education and adulteration mafias in Gujarat. In return for honesty, we are being targeted," says Jaspal Singh, Minister of State for Food & Civil Supplies. Singh, who was divested of his independent charge in December, is also referring to Revenue Minister Ashok Bhatt and Education Minister Nalin Bhatt. The trio is on the hit-list of the dissident camp opposed to ex-chief minister Keshubhai Patel.
After allowing battles to rage till the elections, Delhi has now stepped in, issuing fiats and sending emissaries—K.L. Sharma and Kushabhau Thakre—to assess the situation. "The party is divided and its image is worsening, I can't deny that. Delayed action led to all this. Now, no one will be forgiven. The activities of these Hajurias and Khajurias won't be tolerated anymore," says Rana. The two factions are the kind of jest the Gujarat BJP has reduced itself to. Vaghela supporters derive the name 'Khajurias' from their association with the dissident leader's 'Khajuraho coup' last September, which felled Keshubhai Patel's government. Hajurias (or 'yesmen') are supporters of Keshubhai, who has the backing of Gujarat's strong RSS lobby.
The two warring groups have divided the BJP so much that its image is on a dangerous downslide. "Never in Gujarat's history have we witnessed such horrible scenes. They are an ugly picture of groupism," says state Congress chief Prabodh Rawal. Like others, he feels the BJP has surpassed even the Congress. "Sure, veterans have been criticised in my party, but in the BJP, leaders are attacked barbarically. Dissenting Congress leaders can still sit together; in the BJP they can't be brought into the same room," says Rawal, who feels the stage is getting set for a Congress comeback.
History has shown that the predominantly middle class and business-oriented Gujarati electorate is also unforgiving. In 1973, the late Chimanbhai Patel had rebelled, pulling down Ghanshyam Oza's government. It took Chimanbhai 16 years to return to power. The final nail came when he broke his old moorings again and moved with his people to the Congress. The verdict was clear in the 1995 assembly polls: the Congress got only 45 seats while the BJP bagged 121 in a house of 182. "Today the people are angry, tomorrow they could go against us if such indisci-pline is unchecked," says Keshubhai, drawing a parallel between Chimanbhai's act and Vaghela's rebellion which forced a change in government. "Gujarat's people are unforgiving, as the supporters of those who went to Khajuraho have found. All of them lost in the Lok Sabha elections."
Vaghela and his men impute their defeat to the RSS lobby within the BJP. They cite a poll ad that started with 'Shahabuddin is acceptable, Amirchand is not' and went on to list constituencies where BJP candidates should be defeated. Vaghela alleges that RSS strongman Narendra Modi, who is pro-Keshubhai, continued meddling despite being removed from state affairs. "He behaved like a super-chief minister. Now his people are doing his bidding," says Vaghela.
Modi's key man in Gujarat is Pravin Togadia, surgeon and state VHP general secretary, who insists the RSS can't be accused of getting BJP candidates defeated. Some sadhus were angry with Vaghela because he spoke against them and that doesn't indict the VHP and RSS, he argues.
Says Togadia: "The BJP's progress has been through the dedication of its workers since the '60s. Their efforts received momentum with Hindutva. What you see now is the angry reaction of the electorate and party workers to the Khajuraho culture. Gujarat doesn't tolerate Aya Ram Gaya Rams." Angering the saffron brotherhood here exacts a heavy toll, as it's stronger here than most other states. The VHP claims it has a following in 10,000 of the 18,000 villages and workers samitis in 4,125 villages—which makes this its best state unit.
The divisions are so sharp that some leaders still privately justify the incident where some 'Khajuria' ministers were attacked. Atmaram Patel was badly beaten and stripped—his dhoti shredded, he had to be covered with a party banner. "Like in Ayodhya, where people took away pieces of brick from the broken mosque, here they took pieces of his dhoti. It was the people's anger," says a senior BJP leader.
Vaghela wants the ouster of Ashok Bhatt, who he names as the guilty man. Counters Bhatt: "He blamed three different people in one week, the last was me. His demand that I should be out is an old one. It would serve the interests of builders. He's guilty of gross indiscipline. He should be removed."
Who should go, or whether it will solve the problem, is something the BJP is finding difficult to answer. Right now, all are seeking refuge in cussedness or cliches.
In September 1996, Shankersinh Vaghela spoke to Principal Correspondent Uday Mahurkar in Ahmedabad on a wide range of issues.
Q. Do you feel Vajpayee didn't do anything to help you out?
A. I don't blame him. Vajpayee was helpless against the pressure from the hardliners. Woh to BJP ki sabse dukhi atma hain (He is the BJP's most unhappy soul).
Q. Did you revolt because the BJP leadership failed to keep the promises which formed the basis of the compromise after the Khajuraho episode last September?
A. The BJP leadership carried on with the vendetta against me and my supporters even after the compromise was struck. I didn't indulge in any anti-party activity. I was only demanding action on the Atmaram Patel issue. I demanded justice but they responded with injustice.
Q. Do you think going back to the BJP was a mistake?
A. No. Even during the Khajuraho episode I had no plans of leaving the party. That was only a shock treatment meant to put things in the Gujarat BJP in order. But I should have seen through the game of the hardliners.
Q. You seem to be dead against Advani.
A. As party president he is responsible for the disorder in the party. He doesn't believe in fair play. He was most unfair to me and always tilted in favour of the Keshubhai faction. In 1991 he wanted a safe Lok Sabha seat and I gave up my Gandhinagar seat. Before that he got elected to the Rajya Sabha from Gujarat. On both occasions I played a key role. And look what he has done to me and the Gujarat BJP in return.
Q. What's your grouse against the RSS?
A. The problem is not so much with the RSS as with its hardline frontal organisations like the VHP and the Bajrang Dal. Wherever the BJP comes to power, they start treating it like their private company. Look what they are doing in Rajasthan to Bhairon Singh Shekhawat. It is they who are sounding the BJP's death knell. And the RSS has failed to control them.
Q. Stalwarts like Balraj Madhok were reduced to nothing after being expelled from the Jan Sangh. How do you hope to succeed?
A. We should not insult a person of Madhok's stature. My political roots are very deep as I have risen from the grass-roots. In my 30 years in politics I have toured 14,000 of the 18,000 villages of Gujarat. Few in the BJP know as many grass-roots workers by their first name as I do. And that's my strength.
Q. Why have you floated a national party?
A. There are many dukhi atmas in other state BJP units like Uttar Pradesh, Madhya Pradesh and Maharashtra. I think they will take the cue from me and come out openly. I will ask them to form a third or fourth force in their states. I am going to float the state units soon and appoint their convenors. I may field candidates in the Uttar Pradesh polls.
Q . You have been talking about getting the support of Deve Gowda, Mulayam Singh Yadav and Bal Thackeray.
A. I will take the support of anyone who supports me in my struggle.
With inputs from: Indianexpress, India Today and other local newspapers